Cell Signal Boosting Systems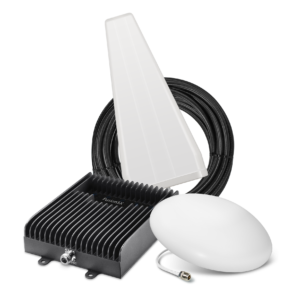 Cg Wiring and Integrators Inc. service businesses in the Bay area and around LA installing SureCall cell signal boosting systems to solve the problems of dropped calls and poor cell signal strength and accelerate data transmission.
SureCall's signal boosters are scalable and purpose-built to support cellular connectivity inside large offices, residential buildings, schools, MDUs, warehouses, and commercial spaces, up to 500,000 sq ft. Our signal boosters require no recurring fees and feature plug-n-play install with no programming needed.
Why would my business need cell signal boosting systems installed?
Distance / Structures
Cell signal faces a host of obstacles from natural and man-made structures, including distance from cellular towers, dense buildings consisting of thick concrete, metal roofs and low-e glass windows.
Building Blocks Signal
Today's construction materials have enabled new buildings to become more energy efficient with LEED, Energy Star, and other environmental certifications. These materials offer a great benefit to the world around us but greatly weaken cellular connectivity indoors.
How do cell signal-boosting systems work?
SureCall boosters amplify the available outside cellular signal and distribute it inside the building. To boost the signal indoors, some signals must exist outside. The outside antenna captures this existing signal, amplifies it, and re-broadcasts enhanced signals inside to all devices. The booster then amplifies the outgoing signal back to the tower.
Cell Signal Boosting Systems VS Distributed Antenna Systems
Distributed antenna systems, also called DAS, are one solution to this problem but are expensive and take a long time to install.
Distributed Antenna Systems:
Carrier involvement required
Time-consuming, 6 – 12 months for deployment
Expensive at $2.00 – $4.00 per square foot
SureCall Signal Boosters:
Carrier and FCC approved
Quick deployment options can be installed in a day
Cost Effective at $.50 – $.75 per square foot
Address
CG Wiring and Integrators
582 South Almaden Ave
San Jose, CA 95110


chris@cgwiring.com
support@cgwiring.com


Chris Griffin
408.856.4424


Available : 24 Hours / 7 Days a week